PeauDeVache.Com : On Marie-Claire Magazine Website
Fallen under the spell of Sonia.M's home decoration, the decoration magazine Marie-Claire couldn't resist and asked for more! So we asked Sabrina, a loyal customer, to open the doors of her house for us.
Sabrina has literally fallen in love with PeauDeVache.com products and has kindly agreed to show us around her beautiful home.
Elegance and comfort are the key words!
For the occasion, Sonia, our director and decorator, went on site to show us an interior that is both cocooned and natural, where good taste and good manners go hand in hand.
Another great opportunity to discover PeauDeVache.com products in a real-life situation. Exclusively for the readers of our blog: all the photos taken during the report.
See the article on the Marie-Claire magazine website.
An elegant and warm ground floor
At Sabrina's, each room has its own distinctive atmosphere and style! Taking advantage of the advice of our decorator Sonia, Sabrina has always made the choice of quality and harmony of colours and materials.
The small living room, a Cocoon space to spend a Zen moment.
A blue sheepskin, a sheepskin rug and a Stella stool in white Icelandic sheepskin. A Roche-Bobois Mah Jong sofa and an oil-blue Kong sculpture by artist Richard ORLINSKI. Everything is gathered to feel good in this little haven of zenitude.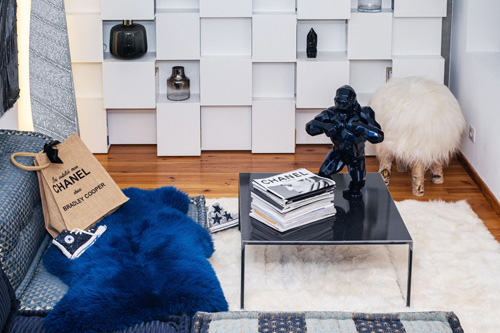 The decoration of the living room:
Night blue sheepskin (Ref. MTN-C-BLF)
Square sheepskin carpet (Ref. MTN_MOLT-01)
Stella stool in white Icelandic sheepskin (Ref. TAB-BOIS-ISL-01)
The living room, a concentrate of softness and well-being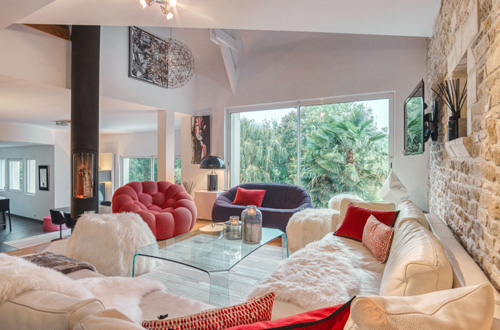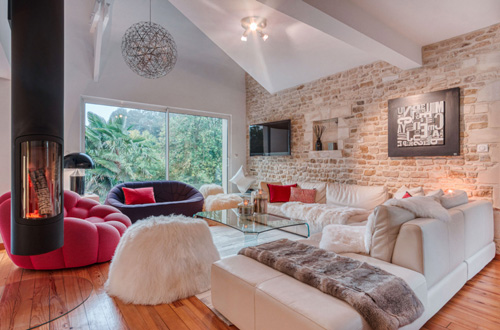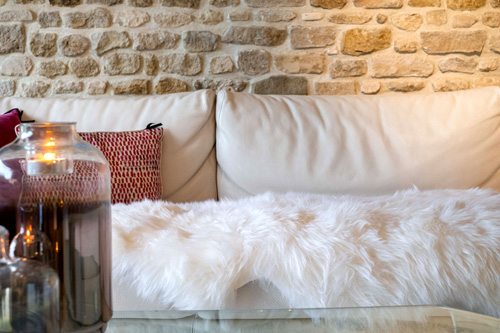 The decoration of the big living room:
Rabbit fur plaid (Ref. : PL-LAP)
Mongolian lamb pouffe (Ref. TIB-01)
Natural white sheepskin large size (Ref. SHEEP-01)
The dining room: elegant sobriety
Black chairs, Natuzzi metal table, natural white cowhide strip patchwork rugs from PeauDeVache.com.
To rest, a lounge chair custom made at the request of Sabrina, the owner. The set is both sober and elegant. The natural white patchwork carpet is the ideal choice for a carpet positioned along a bay window. No discolouration due to the sun or the moon, the ensemble remains intact over time.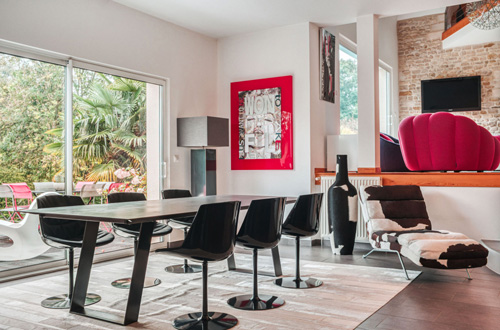 Natural white cowhide strip patchwork mat (Ref. PTW-LN-WH)
Under the stairs, the zebra carpet adds its graphic touch.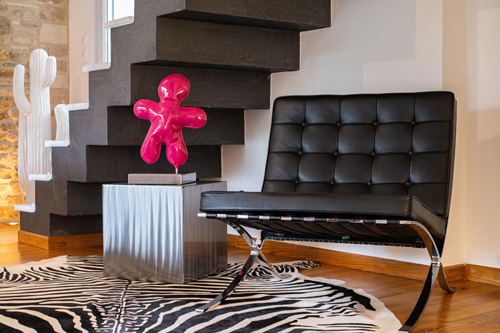 Cowhide zebra rug in size XL (Ref. ZEB-05)
In the entrance hall, a Butterfly chair invites you to take your time.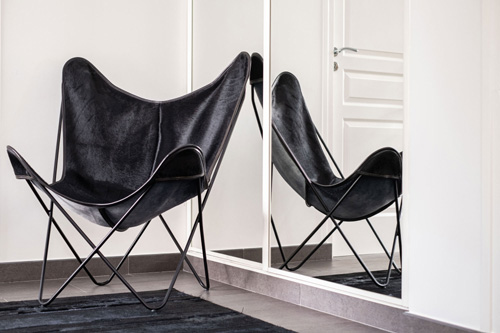 Butterfly armchair in black cowhide (BKF-NOI-01)
Upstairs, a style for every room
The little one's room: color!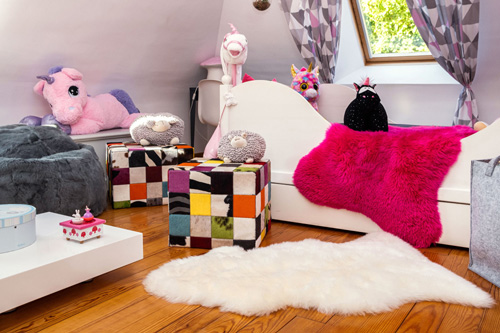 Natural white sheepskin large size (Ref. SHEEP-01)
Sheepskin dyed pink Fuchsia large size (Ref. MTN-C-ROSE)
Elmer Multicoloured Cowhide Beanbag (PF-ELM-01)
Oscar pouffe in rabbit fur (Ref. PF-LAP)
The guest room: chic and warm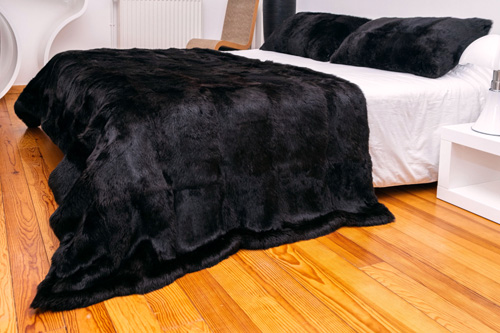 Black dyed rabbit fur bedspread (PL-LAP)
Parental bedroom :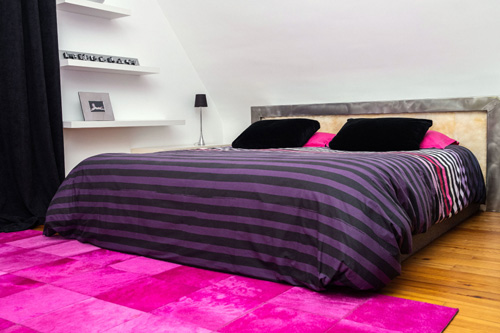 Pink cowhide patchwork rug (PTW-ROS-01-C10)
The billiard room: warm and authentic colours for convivial evenings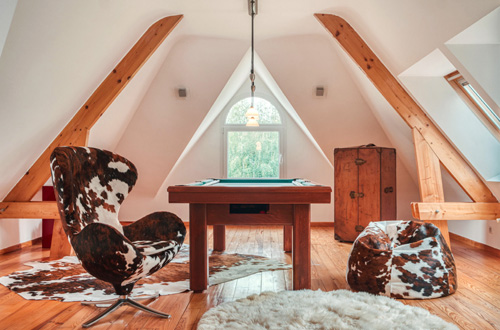 Mooh by Sonia.M Armchair (Ref. F-MOOH-01)
Cowhide Oscar pear beanbag (Ref. PF-NOR-04 )
Natural white sheepskin round carpet (MTN-RD-01)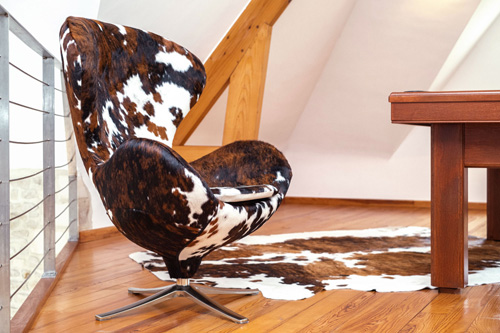 Cowhide Armchair "Mooh" by Sonia.M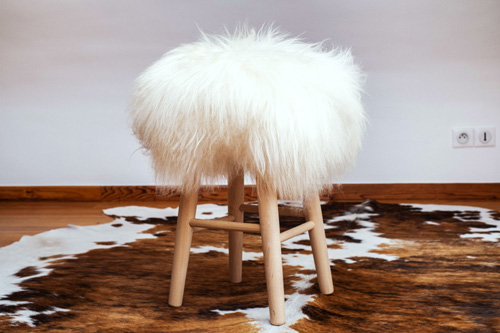 Lina stool in natural white Icelandic sheepskin (TAB-HETR-BL-ISL-01)
Light Normande cowhide in size XL (NOR-02)
Comments
No comment at this time!
Leave your comment